Tory MP Douglas Carswell accuses prime minister of joining 'unaccountable clique of Davos men' at luxury hotel in Watford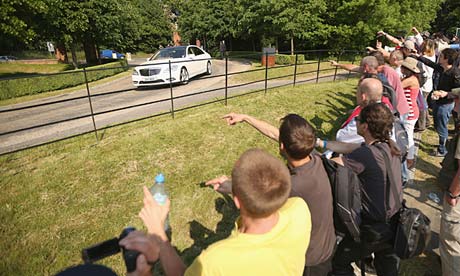 David Cameron
has been accused of joining the "unaccountable clique of
Davos
men" after he attended the
secretive Bilderberg group
meeting at the luxury Grove hotel in Watford, a move that raised questions about his pledge to lead Britain's most transparent government.
Douglas Carswell, the Tory MP who campaigns for transparency in government, said the prime minister was taking part in a "cliche fest" whose participants had helped crash the global financial system. Davos is the town in Switzerland which hosts an annual meeting of global political and business leaders.
Cameron came under fire after Downing Street said it was acting in an open manner by publicising his attendance at the annual
Bilderberg
meeting in advance. The prime minister's spokesman, who said heads of government of countries hosting the annual Bilderberg meeting were usually invited to attend, said it would be a private event and that civil servants would not accompany Cameron.
Ministers are usually expected to be accompanied by civil service note-takers when they meet business leaders. Henri de Castries, the chairman and CEO of the Axa Group, is the Bilderberg chairman.
The prime minister's spokesman said: "He will participate in a discussion around domestic and global economic issues. He feels it is an opportunity to discuss economic issues with senior ministers, businesspeople and academics."Downing Street said it would not publicise any details of the meeting: "It is a private meeting so we are not going to go into any further details."
"On a wider point the prime minister has always been clear about the importance of transparency which is why this government has taken a number of steps in terms of publishing more data, more information about meetings."
Carswell told the Guardian: "Given the dreadful state that most European countries are in – and given the appalling public policy failures that landed us in this mess – you would have thought the least our ruling elite could do is discuss these issues in public. This is only going to add to the idea that we are governed by an unaccountable clique of Davos men
MORE @
The Guardian
,